The Queensland Training Awards are held annually in recognition of the varied achievements of the state's top trainers, which is made up of apprentices, trainees, teachers, trainers, vocational students, training providers, community-based organisations and employers.
Now in its 55th year, the awards celebration is Queensland's top honour for individuals and organisations striving for success, utilising the best practices in training, and innovation in vocational education and training (VET). With 14 categories, the awards represent everything wonderful about VET across Queensland.
A truly prestigious award, nominees for individual and employer categories first compete at a regional level before moving on to compete against other regional members, then at the state level, then finally at the national level as part of the Australian Training Awards. Regional areas for the Queensland Training Awards consist of Tropical North Queensland, North Queensland, Central Queensland, Darling Downs South West, North Coast, Metropolitan and South East.
Seeking quality, handmade awards for these deserving trainers, we were contacted to create custom awards for their recent 2017 ceremony. With a solid timber base and hardwood timber veneer, we also used a cnc router and UV printed laser cut acrylic for added design elements. Each award was hand assembled by our talented team members, and proudly awarded to the many amazing trainers across Queensland.
For more information or a custom award design request, please get in touch and we'd be happy to help.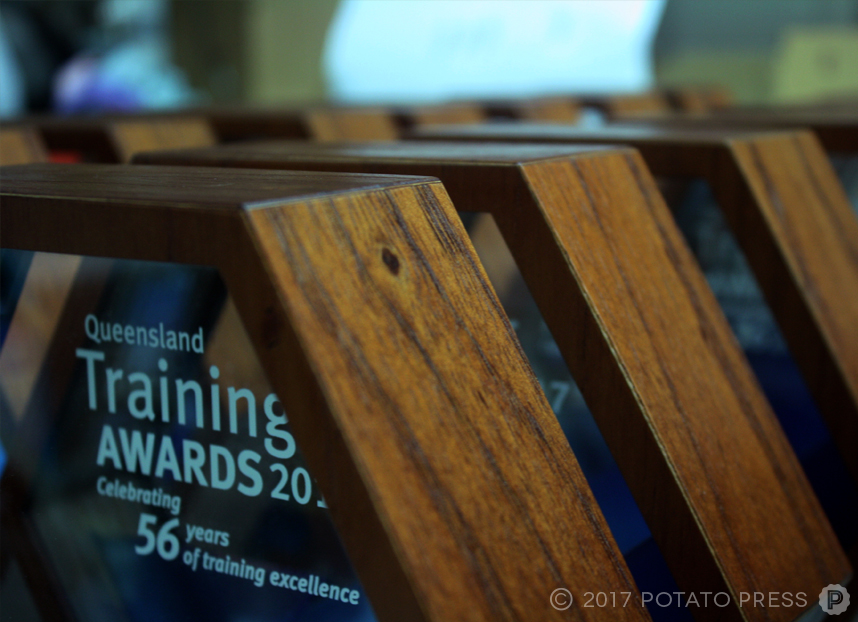 Got a project you'd love to see come to life? Contact our team today!